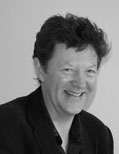 PETER MOOLAN-FEROZE - CREATIVITY AND BRAND CONSULTANT
● Excels at stimulating Creativity, Insight and Innovation
● Supports the development of Powerful Brand & Product Concepts
● Enhances Team Collaboration
● Nurtures Leadership and Communication Skills
Peter's background in the Fine Arts has enabled him to become a pioneer in the use of visual thinking to unlock human potential within organisations, teams and creative processes involving some of the leading global names in household products, banking and finance, retail and education. He understands the significance of getting people to bring more of the passion in their lives into work and how advantageous it is to the organisation. It can increase insight into human perception, learning and the nature of creativity.
"Leaders in business need to create the climate for people to experience more 'powerful moments' and then they would see the whole of that person engaged. For example, I write songs and many of the ideas in my songs prompt ideas about human development at work. It also reminds me of how important it is for a leader to create a culture in which employees experience their own powerful moments."
Current Clients
Peter's clients include London Business School, where he runs Creativity and Innovation workshops for leaders on the Proteus Programme. The focus is personal creative development and how to create the mental and physical context for innovation in organisations.
With M&S he delivered team development workshops, in one case exploring the quality and importance of communication when two teams are merged into one and need to define their behaviours, values and relationships. The Body Shop used Peter's skills to form stronger relationships and trust between the central operations team and the field teams.
He worked on a series of workshops, including consultancy to redesign interior fittings and the customer journey for Jo Malone. These workshops included participation from the shop architects who gained many new ideas from using paintings to create imaginative visions of how the shops should look going forward. Deutsche Bank benefitted from Peter's workshops for creative and mental development, which have given individuals from different teams the opportunity to understand more about each other and how they think and see in relation to work.
Professional Background
Peter studied Fine Art at the Slade School, London University and the Royal Academy of Arts from 1980 to1987. He went on to become Founding Director of the Royal Academy of Arts Outreach Programme which teaches life drawing and creativity skills to thousands of school students across the UK and abroad since 1989. For the last twelve years he has been a creativity consultant to businesses working with leaders, teams and brands. Peter recently launched a project called Refresh that aims to strengthen the creative and conceptual skills of Primary teachers and thereby encourage the early thinking abilities of young children.