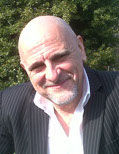 ANTHONY BETTS - EXECUTIVE COACH AND BUSINESS CONSULTANT
● Fifteen years of coaching experience
● Leadership and Personal Impact expertise
● Frequently works with senior executives, diplomats, entrepreneurs and business owners
● Uses 360 Feedback, Myers Briggs, FIRO-B, and a range of other psychometric tools
Tony's coaching ability is solidly founded on his own 25 years of experience in business. Much of his career has been in Marketing, Advertising and International Trade, and he has personally opened 26 companies in 6 countries during that time. His front line global business experience gives him great insight into the international aspects of business, and he continues to work in London, China, Hong Kong and Seoul. He is an active member of the Hong Kong coaching community and ex-member of the Board of Governors for the International Association of Coaching.
Recent Clients
Tony recently worked with an entrepreneur who started an engineering company in the aerospace industry. An accomplished engineer with high technical skills, as his business grew rapidly he found that he was spending less time as an engineer and more time on people issues and organization development. The coaching improved his people skills, opened up communication with staff and customers, and highlighted bottlenecks in the system which the entrepreneur was able to remedy.
Another client involved a newly appointed NHS Board member who felt that she lacked impact at board meetings and that, therefore, some of her ideas were not taken seriously. After several coaching sessions about personal impact, increasing confidence and developing specific tools and techniques for getting and keeping her peers' attention, this technically skilled and experienced manager was able to put her years of experience to better use in a more influential forum.
Tony assisted a Finance Director in the telecoms industry who was appointed as a CEO. His skill with budgets and spreadsheets was highly respected, but with no leadership development to speak of he found he lacked credibility across other areas of the business. Coaching helped him to identify key traits of leadership and to develop his own strengths and ability without losing his personal values.
Professional Background and Qualification
For the last 15 years, Tony has been instrumental in assisting owners and directors of small to medium sized businesses with strategic marketing plans, brand building and customer relationship management. He was a tutor on the National Health Service London Deanery Coaching and Mentoring course and is currently a contributor, advisor and supervisor on their international coaching programme. Tony has also developed a highly effective coaching programme called The Art of Not Doing© as a way to achieve more with less effort.
He holds the following qualifications:
● Diploma in Coaching, accredited with Oxford and Cambridge Board, 1998